How to begin your Self-Discovery journey?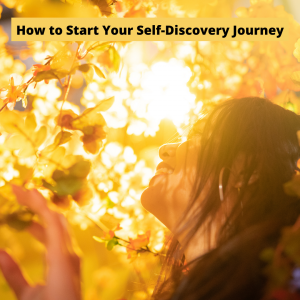 The journey toward self-discovery is life's greatest adventure.
~ Arianna Huffington
Self-discovery
 is a continuous process of removing what is unnecessary, reviewing our core values, and striving to live in greater alignment with these inner truths.
Many of us will embark on a quest for greater self-awareness at some point in our lives, whether motivated by a significant birthday, a life change, or simply curiosity.
As part of this process, we must not only search for what constitutes our true selves but also let go of objects of identification that we've long mistaken for ourselves, which usually entails a balance of introspection and new experiences.
Begin by probing your inner self and emotional depths; the following pointers can help support you on your self-discovery journey.
Read self-help books.
Begin by familiarising yourself with the concept of self-discovery. Learn what a personal inventory is and how to deal with what you find. Reading books about self-discovery will provide new insights and understanding. Some can be read as theory or text, while others are designed as workbooks that allow you to read a section and write down your thoughts. In "Who Am I?" Teressa Everton's book series for adults, teens, and pre-teens discusses her journey to self-discovery and explains the process chapter by chapter. Her book explores your inner self in a lighthearted manner.  You can get an exclusive pre-ordered copy of the book here: http://bit.ly/whoamiforadultsbook
Take Inventory.
Purchase a journal or notebook and schedule some time to reflect on your life thus far. What have you achieved? What are some of your pet peeves? Do you have any major apprehensions? Are you having difficulty overcoming certain obstacles? Have you set attainable objectives? Do you have occasional fantasies or daydreams? Sort them into categories and see which area has the most. That could be the first category to concentrate on. Alternatively, if you have strong feelings about one of the areas, start there.
Accept the process of self-discovery.
When assessing your inventory, you may feel anxious, nervous, or even scared of what you might discover deep within. Don't be concerned. The light of discovery will benefit whatever is hidden in your soul. If you find negative things such as fears, doubts, or negative characteristics, exposure will assist you in dealing with them once and for all. If you come across anything critical, such as fears, doubts, or negative characteristics, exposure will help you deal with them. If, on the other hand, you discover something positive, such as strength, skill, or daring, use it to achieve your highest goals without fear… Simply put, accept whatever you find and continue on your journey of self-discovery.
You can become even stronger by honestly confronting the traits revealed by your inventory. Be yourself and accept your limitations. Only then can you start working on your flaws to become a better person, as well as celebrating your strengths to appreciate each day.
"You" can experiment with as many books, scriptures, meditation techniques, and teachers as you want. The good news is that you can't go wrong because it's the self calling to itself! Everything will unfold as it should, and you will only arrive where You Are in the end.
To help you find your best 'path' and journey, I would like to invite you to a 2-day Virtual online Retreat called Roadmap to Don't Discover new, Discover You!~ Who Am I? Unravel Your true Self to Gain Greater results (level1).  
Dates Available:
 Sept 7-8, 2022
 Dec.7-8, 2022
You can Choose which Retreats works best with your Schedule, You can learn more here: https://form.jotform.com/220170825066854
This is a 2-Day Virtual Online Retreat journey of empowerment!
To Register click here: Roadmap to: Don't Discover New, Discover You – Who Am I? Unravel Your True Self to Gain Greater Results | Empowered Therapy & Training (empoweredtherapyandtraining.com)
Knowing others is intelligence; knowing yourself is true wisdom. Mastering others is strength; mastering yourself is true power.
~Lao Tzu