Sometimes the hustle and bustle of our everyday lives can cause us to feel disconnected from our family members. Especially with the unlimited screen-time in our lives, it can be challenging to find ways to bond as a family.
Our connection to our children means everything to their growth and development. You'll also be making great memories for you and your children and likely relieving stress in the process.
Can you remember the last time you had fun together as a family?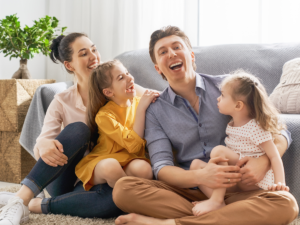 We're all busy and tend to think that bonding happens naturally, but the truth is that forging a close connection takes effort. You already do lots of things to show your love.
Worry no more! Here are the 6 "you-can-do-it" ideas of the best family bonding activities created to get all family members off their devices and interacting for a while.
1. Have a family movie night.
While generally these family bonding activities are designed to be away from devices or screens, family movie night had to make the list. Add some popcorns, stuff animals, and blankets to enhance the movie-like experience at home.
2. Sing karaoke
Don't be shy and sing your heart out! Just search for karaoke songs on YouTube, and you're all ready to sing! Take turns with the kids being performers and cheer each other on.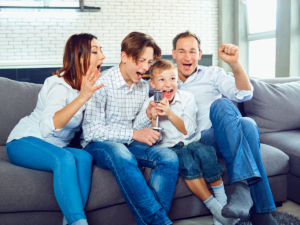 It will be like your own family concert at home! Try teaming up for duets for double the fun.
3. Play a card or board game
Another way to bond with your children at home. Find out who in your family has a competitive characteristic. Some of the family favorites include classics like Monopoly, Jenga, and Life to newer favorites like Utter Nonsense and Exploding Kittens.
You might even make family game night a new weekly ritual.
4. Do a jigsaw puzzle.
For families with slightly older kids, a puzzle can bring you together to accomplish a common goal. They make great indoor or rainy-day activities.
Simple jigsaw puzzles help children develop finger strength, perseverance, and problem-solving skills. Ask your child to turn, flip, slide and wriggle pieces into position. Picking up, moving, and twisting the pieces of a puzzle helps children to develop finger strength and hand-eye coordination.
5. Play Charades
Charades is a family classic that never fades. The goal is to facilitate the child's awareness of how emotion, identity, and social situation can be conveyed through faces. for children to gain an understanding of the importance of these elements in social interactions.
6. Make art or play with modeling clay or play-dough.
Release the hidden artistic side of you!
Painting together, coloring together, making a giant drawing, or making origami are all options. The possibilities are endless.
Engaging in art or craft activities with children is an awesome way to provide not only a fun and enjoyable experience, but a therapeutic one as well. No matter their age, you'll be hard-pressed to find a child who can't find an art medium that interests him.
Also, playing with clay or play dough is a great sensory activity. Adults can enjoy working clay with their hands too. This type of activity really lets children's creativity blossom.
You have to understand that it is very important to bond with your children.
Spending time with your children will help build special family memories. Your children will remember these moments as they grow up and start their own families. Bonding with your kids can also be as simple as helping them with their homework or doing chores together. Don't waste time and think how better it is to be together.